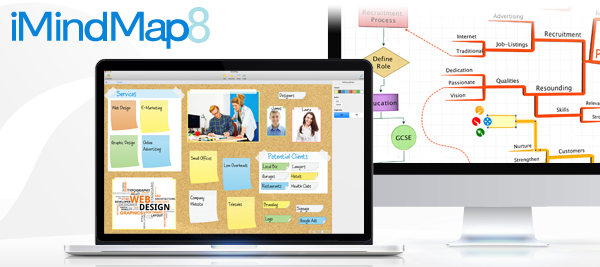 "This fluidity of recording my thoughts is exactly what I've needed to feel completely free in my creative process. From mind to screen is instantaneous and seamless."
Mo Abdelbaki, Radio Presenter, 12Radio
iMindMap for Mac, like its Windows counterpart, has undergone a complete transformation for its 8th version. With clever new features such as the built-in, free-form brainstorming tool and a clean, familiar Mac-style interface, iMindMap 8 for Mac has been designed to de-clutter your workspace and clarify your thinking.

Already have iMindMap 8?
If you have already purchased iMindMap 8, we will send you your iMindMap 8 download link for Mac as soon as the Mac version is released.

Don't have iMindMap 8 yet?
If you have not yet purchased version 8, you can benefit from our exclusive launch offers. We will let you know as soon as these offers become available.

—————————————————————————————————————–
What's new in iMindMap 8?
Brainstorming & Mind Mapping software in one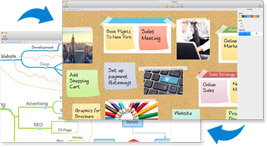 Brainstorm View is there for you when inspiration strikes. When your ideas are in full flow, capture them quickly on the cork board canvas. When you're ready to develop your ideas, send them to Mind Map View with a single click.
Next generation Branch Target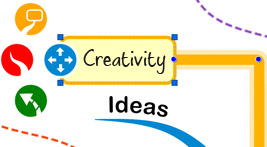 Adding branches, box branches and relationship arrows is a breeze with the redesigned Branch Target – perfect for those 'aha!' moments when you need to get your ideas down right away. Also, it works wonderfully on touch-screen devices.
Simplified interface & new Icon Library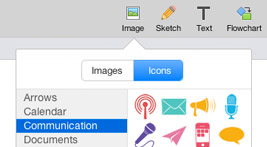 The new library of sleek icons will add a burst of colour to your Mind Maps, while the refined interface has been designed to de-clutter your workspace and make adding images, icons, flowcharts, links and notes to your Mind Maps simpler than ever.
Redesigned iMindMap Cloud area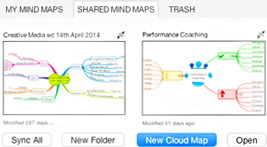 With iMindMap Cloud & Mobile, you can access your Mind Maps on any mobile and tablet device or share them with others to collaborate on. Why not give it a try with the new streamlined Cloud area in iMindMap 8.
*Free 12 month subscription to iMindMap Cloud & Mobile when you purchase iMindMap Ultimate.
Revamped Presentation View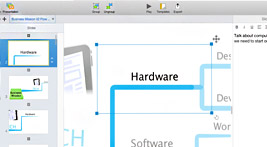 iMindMap 8's Presentation View boasts a simplified menu system and new slide preview layouts, making it even easier for you to build impressive, engaging presentations. The new, handy slide notes will be on hand to prompt you while presenting.


Stay tuned for exclusive launch offers