Great news! It's less than two months before the official release of my first solo book – GRASP The Solution (previously called GRASP Killer Ideas) and I'm all set to go.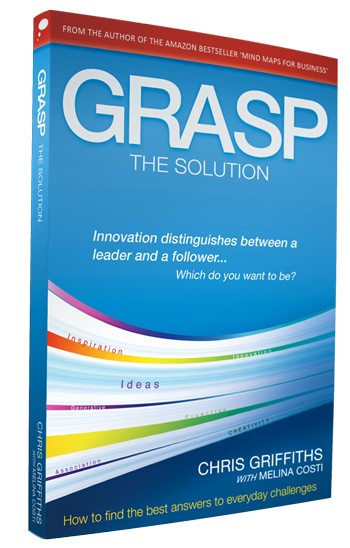 I'd like to give a huge thanks to everyone who provided early feedback on the pre-release version. Your comments have helped me take the book to the next level – updating it with a new title, the latest scientific research and lots of helpful Mind Maps and images.  Now it's ready to unleash to the world!
GRASP The Solution will be released on 19th October 2011.
If you want a straight-talking and practical guide that helps you put creativity to work in the real world, pre-order your copy from Amazon today.
Pre-Order from Amazon.co.uk
Lots more information on the book can be found at www.GraspTheSolution.com. You can watch insightful videos where I talk about key topics featured in the book, view contents and testimonials, download chapter summaries and sign up for free resources.
If you like what you see, please spread the word.
Thanks!
Chris Griffiths