We had some fantastic news come in this week. Our CEO Chris Griffiths' latest book GRASP The Solution: How to find the best answers to everyday challenges has been nominated for an award in the management category of the 2012 Small Business Book Awards.
Since its release in October 2011, the book's had some amazingly positive reviews but this is definitely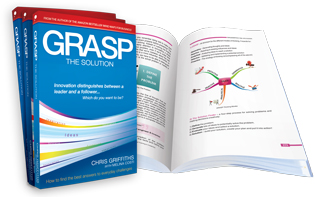 the icing on the cake! Chris is absolutely thrilled and considers it a great honour to be nominated.
The Small Business Book Awards were created to recognise and celebrate books that make a difference to small business owners, managers and start-up entrepreneurs. This is now the fourth year for these awards and the competition is getting fierce!
Chris would love to do well in this competition – but in order to do that he needs your votes! If you've read GRASP The Solution and benefited from it – or simply enjoyed it – then we'd be extremely grateful if you could put in your vote for it.
Cast Your Votes!
The voting window starts today (1st Feb) and ends on 16th Feb 2012 and you can vote for GRASP The Solution once every day during this period. If you're a true fan of the book, then we'd be delighted if you could show your support by taking the time to vote for it each day. And feel free to encourage your followers and friends to do the same!
You can do this by visiting this link and clicking 'VOTE':
http://bookawards.smallbiztrends.com/management_2011/grasp-the-solution-1/
This book could never have been the success it is without you, and for that we thank you very, very much!
Here's a bit of background on the awards…
About the Small Business Book Awards
The Small Business Book Awards, now in its fourth year, enable the small business community to nominate, show their support for, and vote on their favorite business books.  The top 10 winners will be selected by readers based on number of votes as the Best Small Business Books of 2012, while the top five vote-getters in each category become Category Winners. Voting commences February 1, 2012.  In last year's Awards, over 41,000 votes were cast by the community.
The Small Business Book Awards initiative is produced by Small Business Trends, an award-winning online publication, which along with its sister sites, serves over 4,000,000 small business owners, stakeholders and entrepreneurs annually.
Chris Griffiths, GRASP The Solution