Boost the visual punch of your presentation with iMindMap 7's Presentation Builder.
In iMindMap 7 we have built a range of new features to help you create powerful and professional presentations.
Whether you are talking to 5 people or 5,000, here is a guide that will walk you through how to make the most of the new features to create an easy, stimulating and memorable presentation.
Presentation Templates
Our Presentation Templates are new for iMindMap 7 and are a great way to save you time, whilst ensuring you have a flexible and quality presentation. Depending on what kind of presentation you want to deliver, you can throw your ideas together quickly and effectively.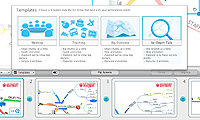 The quick start templates will automatically lay out your slides and tweak the settings such as animation speed and zoom. Simply select the type of presentation you would like to use, from 'Meeting' to 'Teaching,' and we'll build the whole thing for you.
Build custom presentations
If you want to make it yourself, or perhaps edit the template you chose, you can customise it in our Presentation Builder. With our simple slide format, you can control what parts of your map are shown when, the zoom level and angle of every slide, the style and speed of animation and much more.
Just add slides by selecting a branch or multiple branches on the canvas and clicking the plus buttons. You can rearrange slides by dragging them into a different order or select several and then click 'Group' to merge them into one slide.
Kiosk Mode

Kiosk Mode is a great feature that allows you to play your presentation in hands-free mode.
Simply adjust the auto-play length of your slides and iMindMap will automatically play your presentation for you and navigate through your slides based on the slide times you give, allowing you more flexibility to engage with your audience.
Professional touch
More new arrivals for iMindMap 7 – you can now give your presentation that professional edge by adding your company logo to your slides. Decide where you want it to show on you slides and it will automatically be applied to your presentation.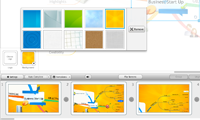 We have also added new presentation background features to give you more flexibility and to generate a more professional and polished presentation.
Export and share
New for iMindMap 7, you can export your presentation slides to PDF. You can customise how many slides show per page, include your notes or provide space for your audience to make notes. Perfect for creating handouts or reviewing your presentation yourself.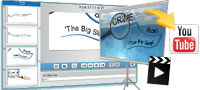 Your iMindMap presentation is too good not to share, so export it as a video or upload straight to YouTube.
Present iMindMap-style from PowerPoint
One of our favourite new features for iMindMap 7 – export your slides into PowerPoint, and they will appear exactly how you created them. This is a great tool if you're presenting on a computer without iMindMap installed.
————————-
For more information about iMindMap 7 Presentation features, have a look at our new video tutorials or head to the iMindMap 7 page for the full lowdown and launch offers…
iMindMap, iMindMap 7, Presentation