The latest in our series of feature-packed free updates goes live tomorrow! So as we count down the minutes till iMindMap 5.5, let's hear from our ever-enthusiastic (and surprisingly eloquent) leader of the iMindmap Desktop pack – over to you, James….
_________________________
Here at ThinkBuzan HQ there's nothing we like better than making things… well… better. Our 5.5 update makes iMindMap easier to use and puts more power in your hands, so you'll understand why everyone here is really excited to get it out to you and see what you think!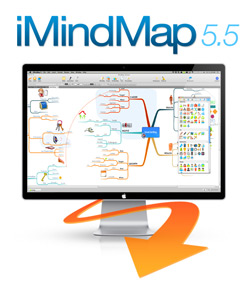 If you're anything like me, by now you'll be wondering "how do I get this marvellous update?" Well I'll tell you – iMindMap 5.5 is going to be available through our in-app updates (or to download via our website if you don't already have iMindMap) from tomorrow so keep watching this space. Read our How-To-Guide on Updates to see how you get a hold of your update goodies.
Here's the overview of the major changes that you'll get in the 5.5 release, but as ever our team have been working on a load of changes to make your Mind Mapping experience better than ever before!
Do You Like Icons? Of Course You Do! We Do Too.

One of the most visible changes in the update is the all new Icon Library which doubles the number of icons, improves the quality of all the icons AND introduces a brand new way of seeing and selecting them.
You can even hide the groups you don't use often to make sure your favourite icons are always at your fingertips. Don't say we never give you anything nice.
If An Image Is Worth A Thousand Words You Can Write a Novel
With the improved Image Library you have access to 30,000 images* from our online library as well as all the images on your computer in the same place.
To see images from our library use the Search tab. Images from your computer can be found under the Browse tab. You'll also notice a brand new Favourites tab which allows you to mark images from our library or from your computer as one of your favourites and from then on it'll appear here without needing to search. To mark an image as one of your favourites, simply click the star in the bottom right of the image.
* Home and Student and Ultimate Users, requires internet connection
Does 3D View Get Better? Yeah It Does.

The super cool and unique 3D view is a great tool for viewing your Mind Maps from a different perspective as well as producing stunning presentations to wow your audience.
Now it gets better with a bunch of improvements which include fully functional icons and the ability to insert notes, links and expand and collapse.
All of our ThinkBuzan meetings now feature a 3D View map on the big screen to capture our ideas – every exciting development coming your way this year was brainstormed first in 3D View! Putting more editing functionality into 3D View means you can use it more and more for all mapping tasks, so make sure you have a go!
Faster mapping with the new Pop Up Editor
The Pop Up Editor is a handy little pop up box with the most frequently used editing tools that will appear within easy-clicking reach whenever you create or select branches.
Move your cursor towards it and it'll get clearer, move the cursor away and it'll fade and disappear – so it's there when you want it, and hiding when you don't. Simple.
Performance
Another update heralds another performance boost, with start times reduced significantly on Windows platforms as well as big improvements across all platforms in memory usage. The result: the sleekest and speediest iMindMap yet.
Well it's that time again for your regular instalment of Tales from the Feedback Forum, where we let you know what features have been implemented as suggested by you.
Something that's been very close to our hearts since the launch of iMindMap 5 is listening and responding to your feedback. In the Feedback Forum you can see what others are suggesting and vote up good ideas, or suggest your own.
Here are some of the forum ideas that have made it into 5.5:
Document Export Quality (Word and PDF)
Improved Icon Library
Improved Image Library
Easy Changing of Central Ideas
So if you have a good idea for iMindMap let us know and you might see it in a future release.
____________________________
Haven't tried iMindMap 5 yet?

Download iMindMap for FREE today.
If you have any questions, get in touch with our ever-so-supportive Support Team:
3D View, iMindMap