With iMindMap 7 Chameleon due to be released this autumn, we have been working to make version 7 the best it can be with the help of our dedicated beta testers. They are avid iMindMap users enlisted to thoroughly explore each and every new feature. They have been reporting some very interesting feedback, so read on to find out what they think…
Branch out with Branch Art
As one of our most exciting features, Branch Art allows you to create more visually engaging Mind Maps with a range of designs that you can apply to any of your branches. Many of our beta testers have named this as their favourite feature as it makes their Mind Maps look completely unique.


"Branch Art is fantastic. I can foresee it being a big hit." – Don Taylor
"Branch Art helps to visualize ideas more clearly and the connections between ideas." – Abderrahmane Bouamri
"Branch Art has the potential to make Mind Maps appear more hand-drawn"
- Madhavi Shilpi
Improve your efficiency with the Insert Target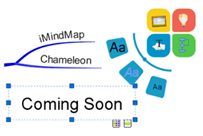 The iMindMap Development Team have been working to make iMindMap quicker and easier-to-navigate. One of the changes most popular with our testers is the new Insert Target. You can easily add text, images, flowcharts and central ideas directly onto your canvas by calling up the new specially designed target.
"iMindMap becomes faster to use. I can insert objects without using menus or the tools box." – Abderrahmane Bouamri
"The new insert target is very clever – floating text, new Mind Map, images, etc. can be positioned in one click – without having to first insert and then drag around." – Madhavi Shilpi
A complete makeover of the User Interface
Making iMindMap as user friendly as possible is our main objective. We want to de-clutter your workspace and give you easy access to the features you most frequently use. With the new user interface and tool bar, you can focus on the creation of your map without wasting time searching for your favourite features.
"My favourite part is the interface. The simplicity and intuitive nature of it allows for an exploratory and natural tool. Plus, everything is easily accessible with a quick click or tap." – Don Taylor
"New toolbar is smart, wonderful and very compact!" – Masaaki Kaneko
Unleash your inner artist with Sketch
The sketch tool has also been revolutionised in Chameleon with beta tester, Masaaki Kaneko, voicing his appreciation "My favourite feature is the new sketch tool – it is a function that I wanted since version 2." Stay tuned for a first look at that in the next few weeks…
What else did our beta testers have to say?
"iMindMap 7 – what was great just got greater!" – Chris Taylor Reed, Your Agile Mind
"iMindMap has been truly revolutionised with this version. It is a product that I will be able to use in training and highly promote to my students." – Don Taylor, English Teacher
"It's look and feel is far more vibrant than iMindMap 6 which was already streets ahead of competitors." – Paul Roberts, Principal Fellow, University of Warwick
"[Chameleon] is wildly exciting" – Eugene LaLonde, Government Administrator, BC Canada
With all the incredible feedback we are receiving, we want to give our beta testers a big thank you. They are truly helping us to make iMindMap 7 great!
———————————————————————————————————————
How can I get my copy of iMindMap 7 Chameleon?
View our exclusive range of pre-launch offers and learn how you can receive your free copy of Chameleon upon its release this autumn.
For more information on the upcoming features, the current offers and more, please click below:
Chameleon, iMindMap, ThinkBuzan