1)      They say the best things in life are free…
And we completely agree – you can use iMindMap for free for life by downloading the iMindMap Basic edition. iMindMap Basic is the perfect tool to get you Mind Mapping quicker and easier than you might think with its intuitive interface and helpful video tutorials.
ThinkBuzan's iMindMap is the only Mind Mapping software from Tony Buzan, inventor of Mind Mapping, and best-selling author of over 100 books including the best-selling 'The Mind Map Book' and 'Use Your Head'.
The creators of iMindMap, ThinkBuzan, are the world's leading experts in creativity, with over 40 years of experience and a customer database consisting of users within organisations such as Disney, NASA, Oxford University, Microsoft and the BBC. Who better to start Mind Mapping with?
2)      Change the way you think and work
If you haven't started Mind Mapping yet, why not join the 250 million Mind Mappers who are already hooked? Mind Mapping is a powerful, 'whole-brain' thinking tool used for more effective brainstorming and creative solution-finding, planning, revision and note-taking, and so much more.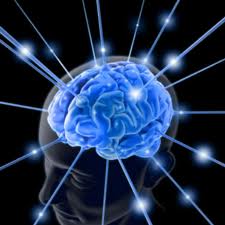 Perfect for at home and school! Mind Mapping is a non-linear process which combines the benefits of skills such as logic, analysis, language, imagery and imagination for whole brain thinking. It uses a radiant structure, colours, images and key-words to enhance creativity and accelerate idea-generation.
Use the free edition of iMindMap, iMindMap Basic, and prepare to be amazed how quickly you'll be able to formulate practical and realistic solutions to problems, and how little time it will take you.
3)      Scrap the notebook
The process of Mind Mapping encourages you to only record the key points and messages that you really need from your meeting, lesson or lecture, so you cut out all the 'waffle' in between and focus on what is really important.
iMindMap Basic combines the time-saving method of Mind Mapping with cutting edge technology to make sure you make the most of your precious time.
iMindMap Basic's SmartLayout helps you create more 'useable' notes, in a substantially faster amount of time. The 'Speed Mind Mapping' function allows you to create Mind Maps at lightning speed using only the shortcut keys on your keyboard.  You don't have to worry about manually structuring your map – SmartLayout's clever anti-collision technology will maintain a clear, organic and well-structured Mind Map for you, so you can stay focused on what's really important.
4)      Improve your memory
The iMindMap software has been designed to replicate Tony Buzan's proven technique of Mind Mapping to easily incorporate its key principles, which, when applied, can make your Mind Map a strong aid to memory. The fundamental principles of Mind Mapping encourage you to create Mind Maps using plenty of colour, images and 'key-words', forming 'memory hooks' that will drastically improve your memory recall. For all the science, check out our article 'Why Mind Mapping Works!'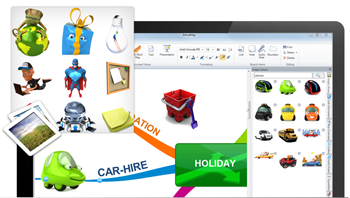 iMindMap Basic gives you access to an Image Library containing over 3000 images, as well as an icon library with categorised icons to give a clear meaning to your Map messages.
If none of these images suit your purpose, you can even insert a photo or picture from your own image library, so you can really make your Mind Map memorable!
5)      Take the stress out of planning
Life's far too short to be stressed, but unfortunately, planning is a stressful and often unavoidable part of life, even outside the office. Whether it's that holiday you're planning, the party you're organising or maybe just your weekly 'to-do' list. Whatever the scenario, Mind Mapping can help lighten the load by illustrating what you need to do and when you need to do it.
Use iMindMap Basic to help you approach whatever you're planning logically, step-by-step, and all on one page in front of you. Let's say you were planning a Halloween party. You would label the Central Idea 'Halloween Party', and then divide all the areas that need organising onto their own branches. Your main branches might be labelled as:
Food
Guests
Decorations
Theme
Venue
You would then be able to break these branches down further, to make more manageable 'sub-tasks'. Let's take the venue – on this branch, you could label all your potential venues and add further information as you see relevant: pro's and con's, pricing, size etc., breaking down the tasks into manageable chunks. You'll be amazed at how much easier you'll be able to tackle your tasks, and you can even transfer the process to almost all areas of your social and professional life.
Having "goals and an action plan behind us", explains CEO of ThinkBuzan, Chris Griffiths, "can help us to prioritise what we really need to do urgently, and what can wait a little longer, so we can relax and spend less time worrying and more time enjoying life".
6)      A Personalised Mind Mapping Experience
iMindMap Basic gives you the freedom to create a Mind Map to accurately represent your style. You can use the Control Points to manipulate your branch into whatever shape you want, or alternatively for the more artistic of Mind Mappers, you can use the Freehand Branches feature to draw branches of any shape to mirror hand-drawn flexibility!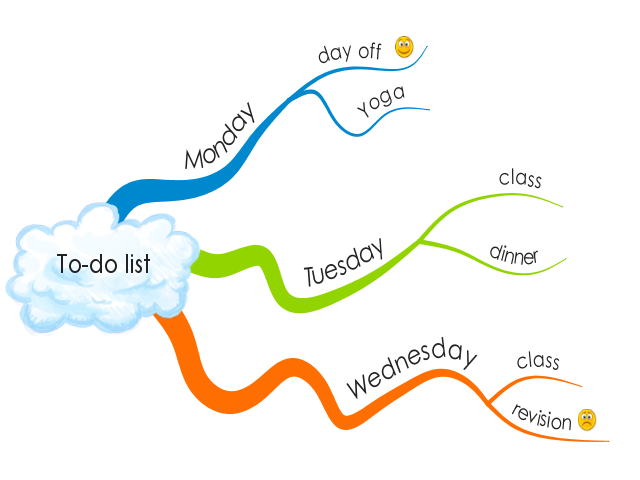 iMindMap Basic's 'Styles' feature gives you the freedom to instantly tailor your Mind Map to fit whatever visual message you want to deliver, in whichever circumstance with four different styles. Perhaps you want to create a fun, brightly coloured, organic Map for your weekly planner with curvaceous branches and a fun font?

Or perhaps you want to create a more 'corporate' map with a more subtle colour scheme, standard font and more linearly shaped branches to hand out at that all important business meeting? Whatever your style, you'll be sure to find one that will meet your needs.
7)      Get 7 days of iMindMap Ultimate –for free!
Want to see why everybody's talking about iMindMap Ultimate? Download iMindMap Basic and get seven days full functionality of the premium edition of iMindMap, iMindMap Ultimate.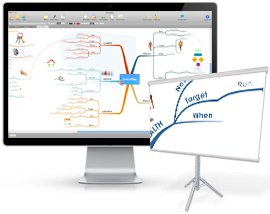 Make the most of iMindMap Ultimate's Presentation View and 3D View; a completely new way to deliver presentations. Captivate your audience with professional, stylish and intuitive software as you deliver your presentation branch-by-branch to really engage and draw in your audience.
With so many other great features such as Project View, Smart Cells, Filtering and many more, why not see for yourself? Download iMindMap Basic today to get started on your 7 day free trial of iMindMap Ultimate!
Download iMindMap Basic for free, for life today!
If you have any questions get in touch with our friendly ThinkBuzan Support Team:
Email: Support Team
Call: +44 (0) 20 71 177 173 or for US customers 1-800-961-4582 (phone lines open UK office hours 8.30am – 6pm)
iMindMap