Getting organised with Mind Maps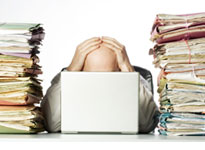 The past two decades have seen meteoric advances in the way we communicate and work; with emails, Facebook, SMS, Twitter, Skype, Ping, blogs, feeds and a vast array of other indispensable forms of 'connecting' and absorbing information.
With such resources at our disposal productivity should be soaring, shouldn't it? But whilst the world is now at your fingertips, you are, unfortunately, equally within reach of the world.